COCONUT CURRY SHRIMP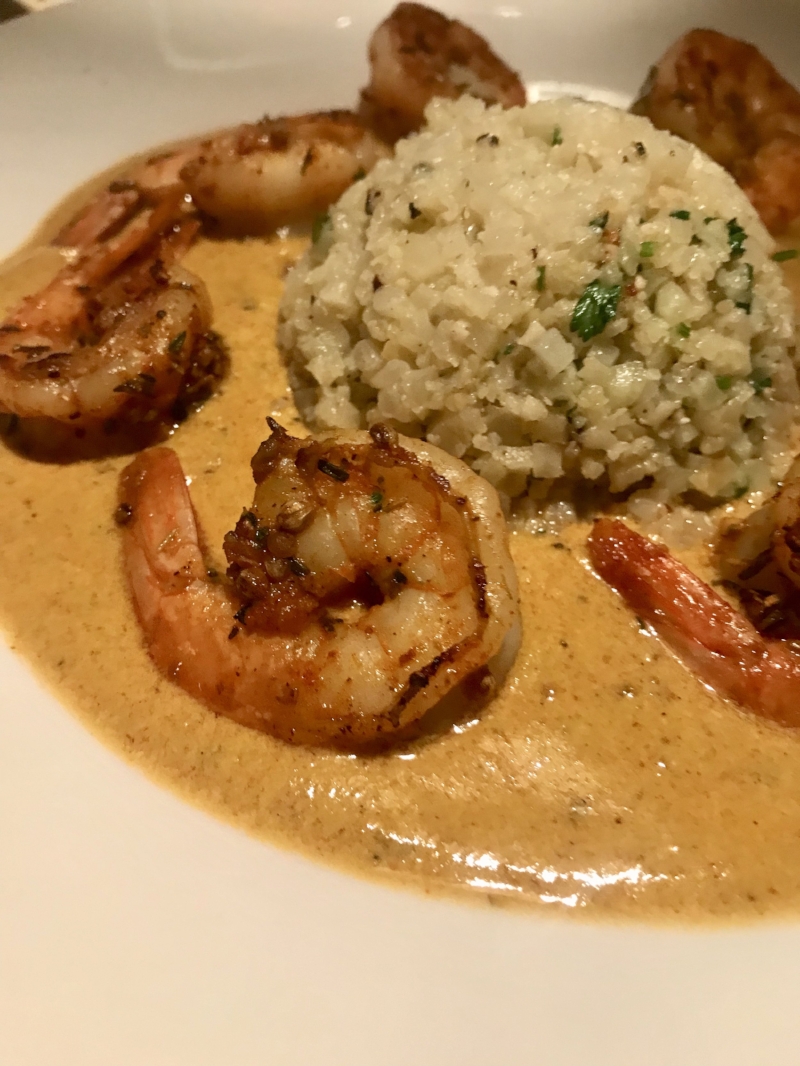 I love a good curried shrimp recipe, however, I came up with a weeknight alternative that packs the same bold flavor in a portion of the time. The best part of this recipe is that you can veganize it and substitute the shrimp with roasted/fried cauliflower nuggets using the same shrimp spices with a few tweaks (depends if you like a crispy battered skin or not). I came up with this quickie experimenting with spices a great friend brought back from Egypt. Let's just say, this one did not disappoint.
Ingredients
Shrimp
1 pound fresh shrimp, peeled and deveined
½ tablespoon mixed peppercorns
½ tablespoon smoked paprika
½ tablespoon cumin
½ tablespoon coriander seeds, whole
1 teaspoon cinnamon
1 teaspoon dried thyme
Coconut Curry Sauce
1 can coconut milk
1 tablespoon garlic, minced
2 tablespoons curry powder
2 tablespoon paprika
1 ½ tablespoon turmeric
1 tablespoon onion powder
1 tablespoon dried thyme (fresh works also)
1 tablespoon cayenne pepper
Sea salt/ Freshly ground pepper, to taste
Extra virgin oil oil
Cilantro Riced Cauliflower
2 cups riced cauliflower, fresh or frozen works fine
Fresh cilantro, roughly chopped
1 tablespoon garlic, minced
Sea salt/ freshly ground pepper, to taste
Extra virgin oil oil
Fresh lemon, garnish

Equipment
Spice mortar
Skillet
Directions
Preheat olive oil in a skillet over medium-high heat. Add minced cauliflower and cook until you begin to smell the garlic flavor release in the oil. Be careful not to allow the garlic to burn. Add rice cauliflower and cook for approximately 5-6 minutes until cauliflower is cooked thoroughly, stirring constantly. Add salt and pepper to taste. Remove from heat, add chopped cilantro and finish with freshly squeezed lemon juice. Set aside.
In a mortar, combine peppercorns, paprika, thyme, cumin, thyme, and coriander seeds. Drizzle shrimp with olive oil, peppercorn mixture, freshly squeezed lemon juice and toss. In a skillet over medium heat, cook shrimp on each side for approximately 3-4 minutes until cooked thoroughly. Remove cooked shrimp from skillet. Add olive oil and minced garlic, cook until garlic is fragrant. Add coconut milk, curry powder, paprika, turmeric, onion powder, thyme, cayenne pepper, salt, and pepper. Cook for approximately 10-12 minutes, until sauce, thickens. To serve, pour curry sauce on the bottom of the dish of your serving dish of choice. Followed by cauliflower and top with the shrimp. Happy eating.